Wisdom Found in a Handbag
Posted on
Lessons found in an old handbag
Today I was hunting for a receipt for my accountant, the usual January panicked hunt whilst I promise myself repeatedly that I will be better organised ready for next year…. A promise broken every year for the last five … but hey there is always next year!
Anyway, an irrelevant point really, as what called me to write this today was not my lack of accounting skills or my chaotic attempt at paperwork but the wisdom and tales, I found inside one of my many handbags.
This discovery may resonate with some of you and for others an amusing insight in too the life of someone who tries to be many things and somewhere along the way, may have forgotten exactly who she is.
This handbag, a large tan faux leather shoulder bag, is suggestive of three vastly different owners. One I think I "should" be, one I try hard not to be and the last a snippet of my soul.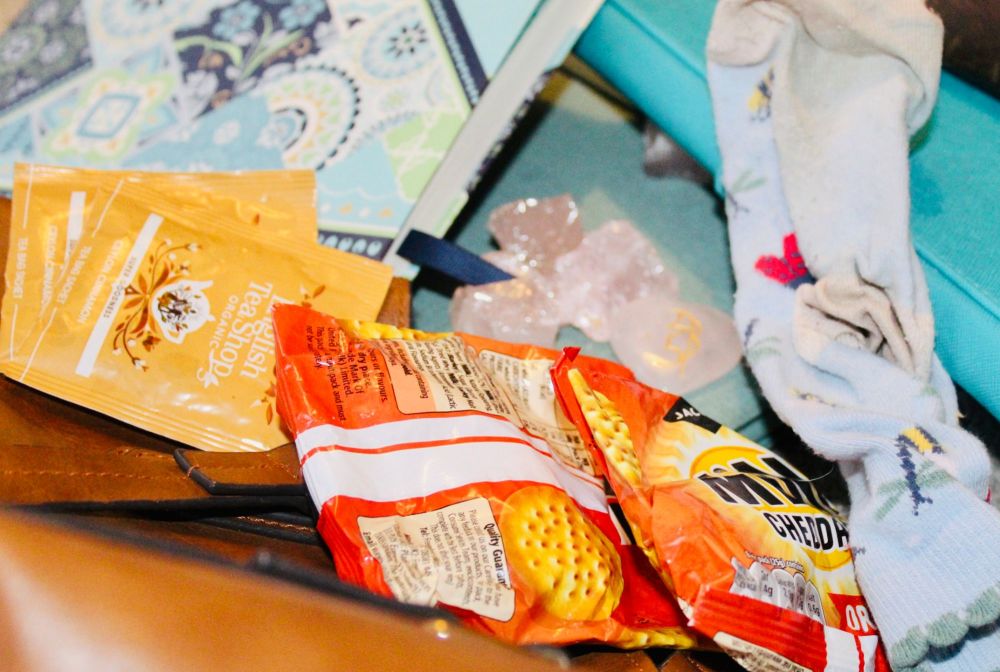 Laying the contents of my bag out to anyone with a methodical mind maybe led to feelings of disgruntled confusion. To me, it's simply a story of a women who is trying to be loved, who loves and has moments of absolute love for herself.
Firstly, there is clearly the mother, an odd sock, old snacks, felt tip pens and rubbish that is unconsciously handed to her, during any outing and just popped into my bag, suncream although today is 5 degrees. Tissues (many of which dirty) hair bands and the odd bead bracelet made with love.
I can see from this selection of stuff here this woman truly loves her kids. She plans food, protects them from the elements, she has great intentions to meet their needs, be that entertainment, hunger or one cold foot.
What I also see is a mum who is tired, overloaded, and importantly regardless of that, a mum who will always take what their child passes to them with no regard for the rights or wrongs of responsibility. Why does this mother take every scrap of rubbish and store it in her bag? In the same way she tries to take every hurt, upset or difficult day from them and stores it in her heart.
Is she teaching them to hold their own space? To carry their own felt tip pens. To help them understand that they have the skills and resilience to manage their emotions with Mum as guidance and not that controller, driver, captain of their lives.
Of course, reflective also of this woman's self-worth and roles in the world. A sense of "if I can just get them through, I will have made a success." Of course, success is not measured through the children not having rubbish in their pockets or having someone to carry their entertainment and snacks.
This beautiful full, dedicated mother needs to find her boundaries and respect her children's boundaries. Motherhood is all consuming, instigated to be that way through a love so strong and deep to keep them safe.
The second person I see is who I feel I "should"be. A diary (which is empty), lip gloss, hand cream, shopping lists (covered in children's handwriting) and the IPad. A 41-year-old "grown up", self-employed, entrepreneurial, businesswomen, ready to work, to look presentable and plan anywhere, anytime.
This my friend is certainly not a true reflection, of the owner of this handbag. These items are a woman trying to convince the world she is successful. After all, everyone knows a notepad and an IPad scream success. I can genuinely share with you that these items were placed in that handbag as last week I was going to meet someone for coffee, and I wanted her to think I was successful. I would also like to add that the person I met had absolutely no care or consideration for what was in my handbag. We met for a heartfelt conversation not a guessing game of how successful I appeared to be.
This makes me wonder if we all had an honest conversation with ourselves, what we would discover we carry in our lives to create a certain persona?
Finally, I found the third version, the women who needs a little more love and nurture. Amongst the crumbs are crystals, an old bottle of lavender oil, a notebook filled with writing ideas that are yet to be revisited. Paper folded with cate, just because and a stick of palo santo amongst the chaos. Here in this version lies a creative soul. She may not be organised, mainstream or methodical but she is whole.
She loves the world so hard; she will sacrifice herself for whoever or whatever needs her attention. She needs coaxing to the surface, she needs a bucket of coaching, she needs to know she is safe to be just the way she is. She needs to feel the purest truest love she gives out to others deep in her own heart. She needs to speak her truth.
It seeks me to wonder how the world would be if, women only held their true version of ourselves in our handbags. If we all felt safe enough not to fit the imaginary moulds society and our own narrative demand.
What I know, what I truly know is that people care about people regardless of the stories told. So why don't you try it for yourself? Dig out the contents of your handbag and see who you find hiding in there.
For me, it's time for a new bag.